Report from Paul Aseka
---
June, 2014
My work during the month of June seemed to be slow, but diligent. I received good news from an aunt of a Deaf couple who needed to find a church in Dallas. The couple lived far away from our church. My supervisor told me to visit them and I said no because I felt really awkward and had never met them. I shared my experiences of trembling in the past with my supervisor. One funny thing, I asked my supervisor "why couldn't you go first?" He responded, they might not be comfortable with meeting just a white person. I responded, that I couldn't go because, even though I am African, I also might experience difficulties in meeting with the couple because I come from a different attitude, culture and life style.
The conversation seemed to show a conflict between my supervisor and me. Later I thought to myself what main challenges might I face when I meet with this deaf couple? I wasn't able to answer that question until later, when I began to feel different. My body became warm while I was still thinking about that question. Strange, it was Holy Spirit whispering my heart, "Paul don't leave a child behind," I looked up and that this reminded me of the Bible story when Jesus called for the children and said to the disciples, "Let the children come to me. Don't stop them! For the Kingdom of God belongs to those who are like these children" (Luke 18:16).
So, my heart and mind said yes to go, and my panic vanished. My supervisor and I discussed and agreed to go to visit the Deaf couple together. When we arrived at their house and they opened the door for us and we were surprised that they gave us a warm welcome to their house. We saw their cute two hearing kids and I noticed that one of their older kids couldn't speak and watched cartoons on TV to keep him company. The Deaf couple started talking about finding a church to worship God and discussed marriage. They were very supportive of each other and agreed with each other's ideas. I was shocked to learn that the work of Holy Spirit was among and leading them. I breathed down slowly when I saw such a positive response from them. We also noticed that their older kid really needed support through socialization with hearing kids so that he could learn on how to speak. We invited them to come to the Vacation Bible School at the Dallas Indian UMC, where we were leading an adult Deaf Bible study. There were also activities for young children, so the whole family could come and enjoy the experience.
Also in June, I went to the International Rescue Committee (IRC) where I taught Deaf refugees ASL. I noticed that they are improving in ASL, but still have a problem with reading and writing. I have no idea on how to suggest to the IRC that they should establish a Deaf refugees school to learn how to read and write English. The refugees only know how to sign from picture cards.
I learned how to deal with my panic so I could move forward to do a home visit, that the visit became positive, and that Deaf refugees still need more educational support.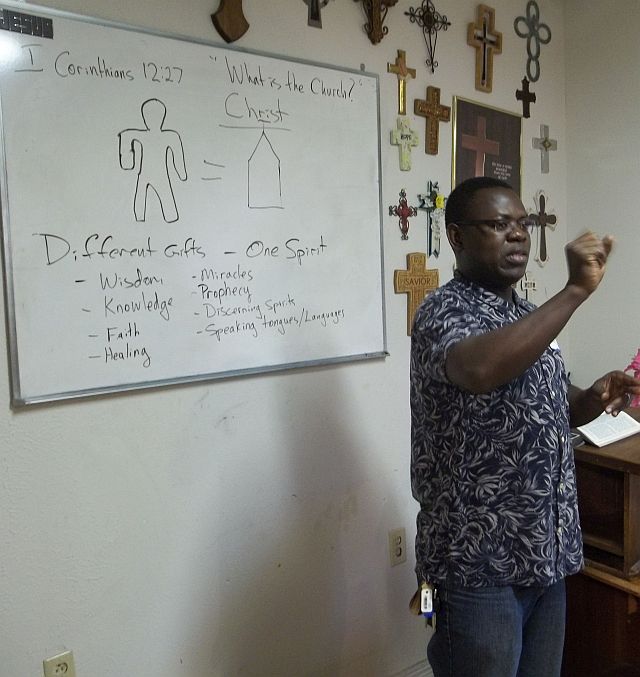 ---
Paul Aseka is interning at Lovers Lane United Methodist Church in Dallas, Texas, thanks in part to a grant from the United Methodist Committee on Deaf and Hard of Hearing Ministries. Paul is from Kenya and became deaf at age 7. He has studied at National Technical Institute for the Deaf in Rochester, New York and is sensing a call to ministry with the Deaf. At the March 2013 meeting of the UM-DHM, the committee set aside funds to support local churches that desire to develop Deaf Christian leaders. In the months ahead. Paul will be sharing his experience as an intern. This is his most recent report (previous reports can be found here).