Report from Paul Aseka
March, 2014
Watch this report in ASL:

March was a pretty busy month as I prepared for one big event in San Antonio and another small event, and as usual, the Dallas Deaf Action Center. I had another project, and I waited for someone on the church staff to video me signing the Lord's Prayer and to sign the song "Praise God from whom all blessings flow." I gave up waiting and videotaped the prayer and song myself.
I also attended Lay Servant Training in the Metro District of the North Texas Annual Conference for four Sundays after worship services. It was very interesting for me to learn something about the function of Lay Servant. There were several hearing people from various United Methodist Churches in the North Texas Conference. I was one of four Deaf participants, all from Lovers Lane UMC. I participated in classroom discussions (we had ASL interpreters, provided by Lovers Lane), on Jesus's conversations with the disciples, "Who Do You Say I am?"
The hearing people voted for me to present a testimony on the last training day, which was on March 16. I immediately agreed and they gave me a good topic, "What Jesus means to me." This is my story which I presented:
Jesus Christ is the same as yesterday, today, tomorrow and forever. I experienced in the past that I used to go to church where is no translator with my mother. I asked her to interpret for me in that church, I was sick to see her word "LATER" all the time. When the people laughed in the church, I repeatedly asked why are they laughing? She replied with one word "Later" that never happened. I saw the two Deaf men talking about their church. I introduced myself to them and brought me to their church where was a translator and Deaf pastor. I immediately told my mother "NO MORE LATER." She seemed puzzled because I already found church. Jesus always answered now and NOT LATER. He called me to spread good news through the sign of my hands NOW not Later. The wonderful message of past, today, tomorrow and future Jesus always answered now and No more later.
The congregation cheered and I felt that this story inspired everyone. Then, I got my local lay servant certificate. On March 20, I went to the Dallas Deaf Action Center with my supervisor for the devotion to Deaf residents. That was perfect day because they had a St. Patrick's Day party on that day. Every resident put on green beaded necklaces, that was so fun. If someone wasn't wearing green, then they would be pinched! I shared the same story what I presented at the end day of Lay Servant Training.
On March 27, I traveled to San Antonio with Lovers Lane Academy for the Deaf students, along with five other Deaf Ministry leaders. This was a four day retreat based at Providence Place (formerly Methodist Mission Home), which was hosting "Walk with Jesus."
I was one of the table leaders who monitored the students' reactions to ensure that they understand the presentation. The most important topic was about "How to Clean My Heart," led by Chaplain Carol Williams. She used her examples that applied to her life from the past. That helped me to learn how to clean my heart.
The other thing that was very interesting was to write an individual's mistakes in the past on red heart papers then nail them on the cross of Jesus Christ. Then the paper hearts were burned in small grill. When the red heart paper became ashes, then that meant that God has taken away our sins. That was very interesting for me. I also signed song about "this is a good day to love Jesus" and invited walkers, volunteers and staff of Providence Place to dance and praise the Lord with their hearts.
I learned last month that led my heart to change bad to good.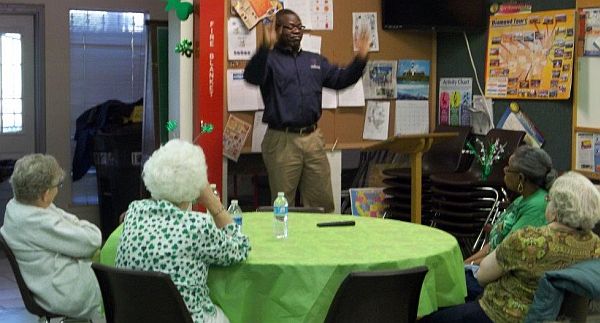 ---
Paul Aseka is interning at Lovers Lane United Methodist Church in Dallas, Texas, thanks in part to a grant from the United Methodist Committee on Deaf and Hard of Hearing Ministries. Paul is from Kenya and became deaf at age 7. He has studied at National Technical Institute for the Deaf in Rochester, New York and is sensing a call to ministry with the Deaf. At the March 2013 meeting of the UM-DHM, the committee set aside funds to support local churches that desire to develop Deaf Christian leaders. In the months ahead. Paul will be sharing his experience as an intern. This is his most recent report (previous reports can be found here).