Report from Paul Aseka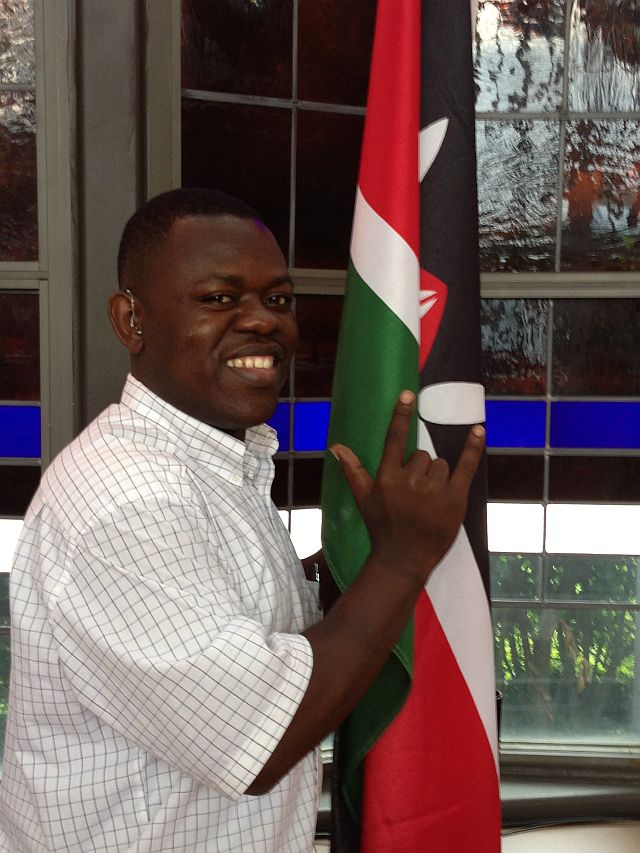 November was a busy month for me. I have gained experience in areas where I have been inexperienced. On Thursday, November 7, I went to the Dallas Deaf Action with my supervisor to lead a Memorial Service for Deaf residents who passed away in the past year. My supervisor and I signed songs for the residents before the memorial service started. On Saturday, November 9, I participated with our men's Bible study group at the First United Methodist Church in Lewisville, Texas for the metal workshop to make Personal Energy Transportation (PET) devices. I used the power drill machine to drill bar metals for making PET underframes and then welded them. I was not a good welder, but I was enjoying learning on how to operate the kind of power machines at the workshop.
On Sunday, November 10, I led our Deaf fellowship class, reading the Bible verse John 9:1-41. It was about "Jesus heals a man who was born blind." This was a very interesting verse because I had some experiences in the past when I visited a hearing church in Kenya. Some hearing pastors thought to themselves that they could heal Deaf to become hearing. After I read the Bible verse through, then I interpreted how it applied to a Deaf person like me. I recognized that some of our members shared similar experiences and made some good feedback. It helped me to grow strong confident in my leadership.
On Sunday, November 17, I traveled to First UMC, Shreveport, Louisiana. I and two other Deaf members from Lovers Lane went there to talk about Deaf ministry. The church in Shreveport has a monthly fellowship for the Deaf on Sunday afternoons, and my supervisor asked me to go and give my testimony. One of the other Deaf members from Lovers Lane told the group about Lovers Lane Academy for the Deaf.
I received administration work training this month, and I felt overwhelmed when I started. I learned how to find guests and regular members of the church on our church's database, Fellowship One, and also learned how to post and make reports of various ministries at LLUMC. It was very good for me to learn because I'm motivated to work.
A word helps me understand what I have learned this month: inclusion. No matter my inexperience, I learned that I could gain experience in such things as operating power machines and Fellowship One database. But now through these experiences, I feel more included in the church and community. I thank God for giving me a strong confidence to do anything, no matter if I am Deaf.
---
Paul Aseka is interning at Lovers Lane United Methodist Church in Dallas, Texas, thanks in part to a grant from the United Methodist Committee on Deaf and Hard of Hearing Ministries. Paul is from Kenya and became deaf at age 7. He has studied at National Technical Institute for the Deaf in Rochester, New York and is sensing a call to ministry with the Deaf. At the March 2013 meeting of the UM-DHM, the committee set aside funds to support local churches that desire to develop Deaf Christian leaders. In the months ahead. Paul will be sharing his experience as an intern. This is his most recent report (previous reports can be found here).