Report from Paul Aseka
---
July, 2014
July was a slow month as I prepared for DHM conference in Chicago. I have been about outreach activities, Deaf Ministry at our Church, the conference in Chicago and my education for several days. I'm ready to share them with you now.
In outreach activities in July, our lay servants from Lovers Lane and I went to Dallas-Indian Methodist Church, including my supervisor; for Deaf Bible study at 6:30 p.m., Tuesdays. We used the study book, On the Threshold of Grace by Donald Haynes. I led one of the chapters on "Perfect Grace" which the founder of Methodism, John Wesley, emphasized. Our scripture focus was Hebrews 5:13-14 and 6:1, which is the story about God's character and how his love inside the body of Christ (Church) is made perfect. These verses were meaningful for me to help deaf group to understand why loving each other is important and that God loves us no matter who we are.
Also, I went to the International Rescue Committee to visit Deaf refugees to learn what they are experiencing with IRC staff. I noticed that some of the refugees's ASL signs improved and others, not. I also noticed that some IRC staff who worked with Deaf Refugees seem to pretend to understand very clearly what Deaf refugees signed and that they tend to smile all times when deaf refugees asked for their needs. I could see that the communication between Deaf refugees and IRC staff was difficult there. I encouraged the manager of IRC to let the refugees learn some roads sign and buildings outside, rather than keep them in classroom all the times. The refugees are always walking to and from IRC to their apartments, so they need to learn how to read street signs. For only the second time since this past May, I took the group outside to teach them traffic lights, zebra cross etc. (Zebra cross is what Kenyans call a crossing walk on a street corner!).
I also went to Dallas Deaf Action Center for the devotional. I led without my supervisor. I used the same verses that I used at the Dallas Indian study, and that helped Deaf congregation to understand the love of Christians. I signed sweet song to inspire them.
At the DHM conference in Chicago, I learned one very important historical note. Dr. Kirk Van Gilder from Gallaudet University told us that during the early to mid-1900s, the hearing Methodist churches had increased their educational requirements for ordained ministers, while at the same time education for the deaf went down. That information helped me understand why there are few deaf pastors and churches today.
In summary, I have learned that conference in Chicago helped to understand the work of Deaf and Hard of Hearing Ministry (DHM). And that International Rescue Committee (IRC), and Dallas Deaf Action Center (DAC) helped me to gain experiences.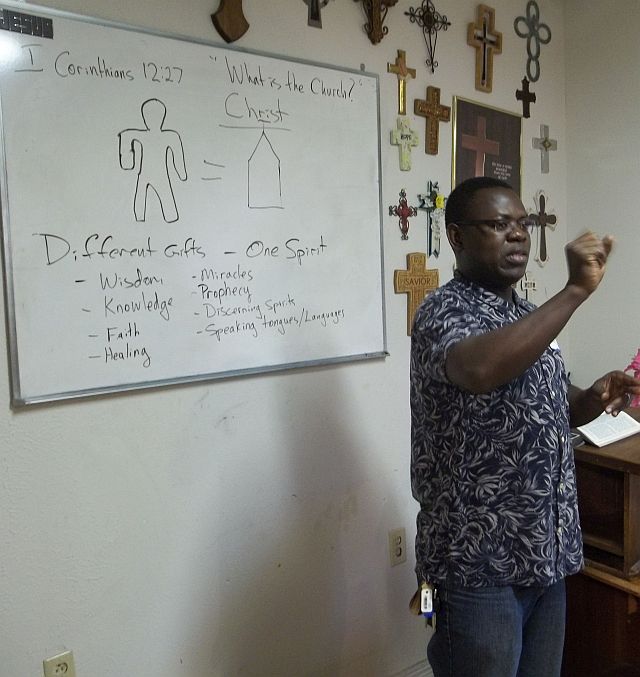 ---
Paul Aseka is interning at Lovers Lane United Methodist Church in Dallas, Texas, thanks in part to a grant from the United Methodist Committee on Deaf and Hard of Hearing Ministries. Paul is from Kenya and became deaf at age 7. He has studied at National Technical Institute for the Deaf in Rochester, New York and is sensing a call to ministry with the Deaf. At the March 2013 meeting of the UM-DHM, the committee set aside funds to support local churches that desire to develop Deaf Christian leaders. In the months ahead. Paul will be sharing his experience as an intern. This is his most recent report (previous reports can be found here).