Report from Paul Aseka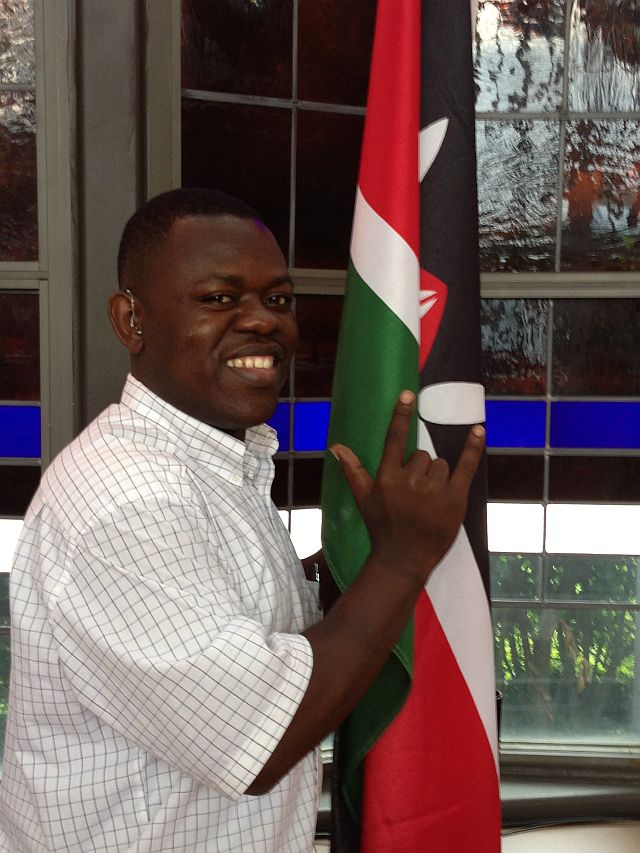 I would like to take an opportunity to say "good bye 2013." As I celebrate the New Year, there were a lot of excitements inside me because I saw awesome opportunities building bridges to my future call. I was offered a full time job at Lovers Lane UMC, where I am providing support for Deaf ministry, recording Sunday school attendance and visitation, and capacity building (empowering four other UMCs to do Deaf ministry). Because I was offered a full time job, I was able to bury my old job at FedEx. My new job had made me more motivated because at Lovers Lane we provide support and outreach activities for Deaf community near (Dallas) and far (other cities and states and maybe world).
During the first weekend of January, I and a few other members from Lovers Lane, helped two of our Deaf fellowship members with packing their property into a U-Haul truck. On the first day of the move, we packed and loaded all day until the truck was full. The next day, I drove that truck to La Vista independent living center in San Marcos, Austin. In Texas there are only two independent living centers especially for Deaf. There were other two men from our fellowship who worked with me to unload their stuff into their new home. We unloaded all stuff into their house and fixed the loose furniture. It was really hard work for all of us and we worked with without rest because we understood that older couples couldn't do that without our help after we returned to Dallas, about a 5 hour drive.
On Sunday we returned to Dallas, I visited Oak Hill United Methodist Church where one of the members of the DHM, Caroline Koo, worships. This was my second United Methodist Church to visit that has a Deaf ministry. We took morning breakfast and worship there. Koo and I discussed about how she could strengthen the Deaf ministry after we worshipped in the sanctuary there. I gave her some ideas of how to make that happen through fellowship with a small group.
I also went to the Dallas Deaf Action Center for devotion. The title was about "reunited family." The example was about how Esau met his brother Jacob after he stole the blessing which Esau hoped to receive from his father Isaac. I used this topic because I knew that some of the Deaf people have had some issues within their families and that helped them to think why it is meaningful to bring family together. I started to work with International Rescue Committee as ASL volunteer, which is a part of my job description. I met with volunteer coordinator of IRC and she told me that the number of Deaf people from Bhutan were about 30.
In summary, I learned that there was a good opportunity for me to gain knowledge and experience on how to use technology and my skill to communicate with people from near and far.
---
Paul Aseka is interning at Lovers Lane United Methodist Church in Dallas, Texas, thanks in part to a grant from the United Methodist Committee on Deaf and Hard of Hearing Ministries. Paul is from Kenya and became deaf at age 7. He has studied at National Technical Institute for the Deaf in Rochester, New York and is sensing a call to ministry with the Deaf. At the March 2013 meeting of the UM-DHM, the committee set aside funds to support local churches that desire to develop Deaf Christian leaders. In the months ahead. Paul will be sharing his experience as an intern. This is his most recent report (previous reports can be found here).